HERKIMER – For the first time in more than a year, the Herkimer-Fulton-Hamilton-Otsego BOCES Cosmetology program is opening up its clinic that allows students to gain experience providing salon and spa services.
Customers from school and the local community are invited to receive services including cuts, coloring, perms, manicures, pedicures, waxing and more under the supervision of Cosmetology instructor Holly Rotundo Fischer and teaching assistant Sarah Jacquays-Alberts.
"Due to COVID-19, we haven't been able to open the clinic as soon as we normally would, but we're happy to have the guidelines in place to allow it to start now," Fischer said. "The clinic provides students with valuable experience doing hands-on work, interacting with customers, preparing for an entry-level salon job and building the foundation for a potential career in cosmetology."
The clinic, named Salon Illusions, is open to community members by appointment only from 9 a.m. to 1 p.m. on Thursdays and Fridays at the Herkimer BOCES William E. Busacker Complex at 352 Gros Blvd. in Herkimer. To make an appointment or for information, call 315-867-2043.
All school and salon COVID-19 guidelines will be strictly adhered to. The low prices of the services are used to offset the costs of putting on the clinic.
Herkimer BOCES Cosmetology student Autumn Comstock, of Poland Central School District, said she is excited about the clinic opening. "It's great to finally be getting back to normal and to work on clients," Comstock said. "The pandemic isn't going to stop us from doing what we love."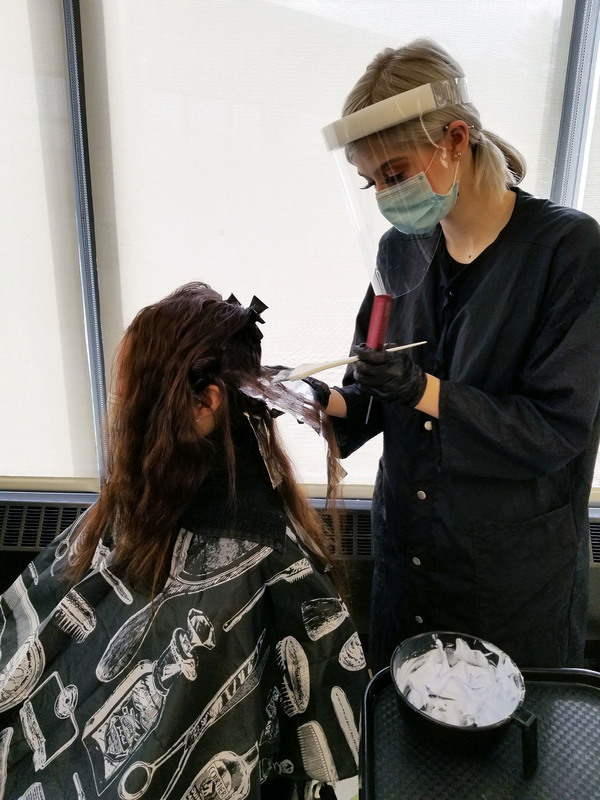 Herkimer-Fulton-Hamilton-Otsego BOCES Cosmetology student Autumn Comstock, of Poland Central School District, performs a foil highlight on Clinton resident Allessandra Russell on Friday, March 26, in the Cosmetology program's clinic, which is now open to the community. Call 315-867-2043 for information or to make an appointment.