ILION – Five students in the Herkimer-Fulton-Hamilton-Otsego BOCES region will have the New York State Seal of Biliteracy on their diplomas when they graduate this month – showing that they have demonstrated proficiency in both English and Spanish.
The students took world languages Spanish classes and exams at their home districts over the course of multiple years. This school year, they conducted research on a subject of interest and did presentations on the topic. Then, on Thursday, June 2, they were interviewed in Spanish about their presentations by a panel of three local Spanish teachers.
"The whole idea of it is that you can actually be bilingual," Herkimer BOCES coordinator of Instructional Support Services and Educational Technology Sheri Perry said. "They're native English speakers, but they're learning Spanish to a degree where they can present a project, answer questions and have a conversation."
Following the panel interviews on Thursday, June 2, the students received certificates for earning the New York State Seal of Biliteracy during a celebration that took place at Central Valley Academy. In addition to having the seal on their diplomas, they will also have a Seal of Biliteracy medal to wear at graduation.
The five students – all seniors – who earned the Seal of Biliteracy are:
Audrey Campbell, of West Canada Valley Central School District
Joshua Baldwin, of Herkimer Central School District
Philip Nash, of Dolgeville Central School District
Joaquin Nietes, of Herkimer Central School District
Tia Ruggiero, of Dolgeville Central School District
Herkimer BOCES helps facilitate the New York State Seal of Biliteracy program on a regional level. This includes establishing a professional learning community among world languages teachers who meet periodically, working with the teachers to create checkpoint exams, hosting the checkpoint exams and hosting the Seal of Biliteracy panel interviews and celebration.
The Central Valley, Dolgeville, Herkimer and West Canada Valley school districts currently participate in the program.
The New York State Legislature established the New York State Seal of Biliteracy in 2012, and the first students in the state to earn the seal graduated in 2016. To earn the seal, students must demonstrate proficiency in English and a second language and earn a New York State Regents Diploma.
The New York State Education Department website highlights many benefits of the seal including that it encourages the study of languages, helps employers and universities identify graduates with biliteracy skills, prepares students with 21st century skills, recognizes the value of language instruction and affirms the value of diversity in a multilingual society.
During the panel interviews on Thursday, June 2, Spanish teachers asked the students questions in Spanish and rated their responses in Spanish using a rubric from the state. The teachers were also able to go beyond the state-suggested questions and ask more about the topics students chose.
"The process demonstrates that the students have the knowledge and have the ability to listen to questions in Spanish and respond in Spanish," Perry said. "That's where it takes it to a higher level."
During the ceremony, the Spanish teachers involved with the program introduced the students, gave them their certificates and spoke about the value of the program. West Canada Valley Spanish teacher Leonora Foster wasn't able to attend the ceremony.
Central Valley Spanish teacher Liza Gonzalez said she brought the Seal of Biliteracy program to the area in 2018.
"It has definitely grown in our region, and I'm so excited about it," Gonzalez said. "It gives kids another opportunity to show what they're capable of."
Herkimer Spanish teacher Chanel Meyer said this was the first year Herkimer was part of the program. Students benefited from not only how to speak Spanish but from learning interpersonal skills and about cultural diversity and acceptance, she said.
"I think that's a really big part of it," Meyer said.
Dolgeville Spanish teacher Elba Nash also said she values that students learn can improve human interaction – leading them to understand, appreciate and respect different cultures.
"I think this is a great program because it prepares students for what is ahead," Nash said.
Herkimer BOCES District Superintendent Sandra Sherwood, who attended the ceremony along with administrators from component school districts, said she also supports how earning the Seal of Biliteracy guides students to appreciate other cultures because more of that in general would help improve the world.
"I really believe the cultural sensibility is a huge part of this that would serve us all well," Sherwood said. "I'm very proud of the work these kids have done."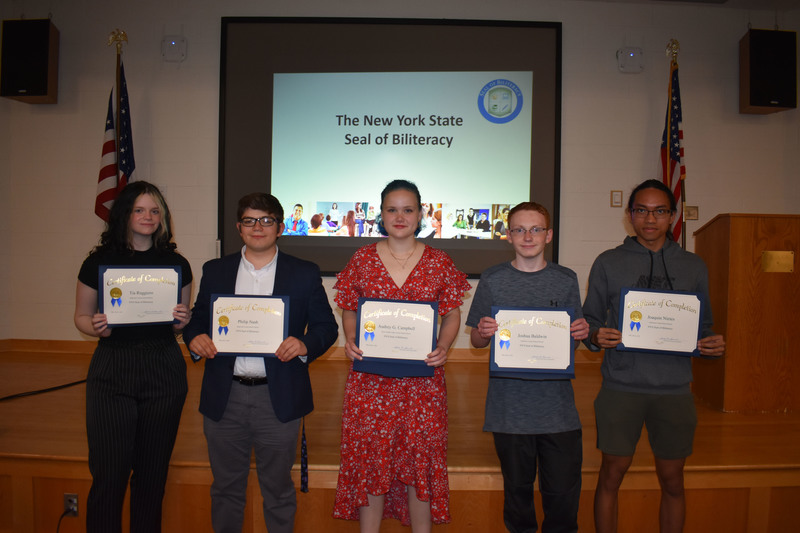 Five students in the Herkimer-Fulton-Hamilton-Otsego BOCES region earned the New York State Seal of Biliteracy during the 2021-22 school year and received certificates during a ceremony on Thursday, June 2, at Central Valley Academy in Ilion. From left: Dolgeville students Tia Ruggiero and Philip Nash, West Canada Valley student Audrey Campbell and Herkimer students Joshua Baldwin and Joaquin Nietes.